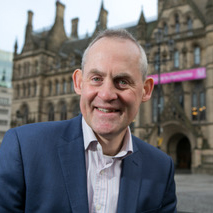 Richard Young
Private Equity/Venture Capital and Corporate Finance                                                          
Richard is Manchester's longest surviving venture capitalist, doing his first deal in 1989 and working with over 100 companies since then.  Initially in private equity, he then specialised in growth investment, backing some of the most successful companies in the North West.  Alongside his understanding of equity funding and M&A, he also sits on boards and works closely on recruitment and performance of senior people.
Key Services:
Advising on whether and from where to raise equity funds
Buying and selling mid-market businesses
Sectors: Enterprise software, SaaS, B2B technology and services, other high-growth segments
Companies: Invested in:  TeleCity, Blue Prism, Transitive Technologies, VYPR – Worked for:  3i, Manchester Technology Fund, Mercia, BVCA.
Qualification: FCA threshold competent in the conduct of investment business