Strategic Planning – a future orientated perspective for your business
The journey forward for any entrepreneurial company begins with a shared vision between the owners of what the future looks like. Many businesses plan with reference to the past e.g. "We did £X last year, so let's look to add 5% this year". It is more productive to look to the future in goal setting, not the past. Taking, for example, a five years' timeline (there may be other timelines), a key question is "Where do we want/need to be in 5 years' time?". A vision and a milestones plan will emerge from this process, and a future-oriented perspective will be created.
This future-oriented perspective is:
External – business focused;
Allowing for multiple options; and
Open to new roles and players.
Unlike a past-oriented perspective that is:
Incremental – seeking to extrapolate growth increments based on past performance;
Internally focused;
Focused on avoiding mistakes; and
Focused on existing players and roles.
Business planning adopting this approach envisions a future for growth that should be ambitious but realistic. Working back from that future point presents visions of what milestones have to be achieved along the way. Detailed planning is carried out in the first year, with detailed planning for the subsequent year as that year closes and so on. It might graphically be shown as: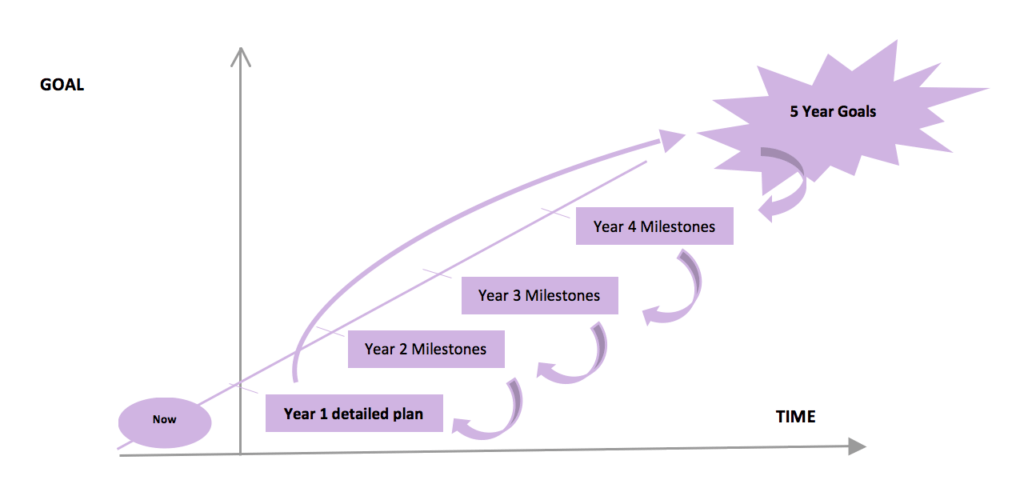 Here, a five years' strategy plan would include:
Clearly stated quantified Five Year Goals
Key strategic milestones for Y2, Y3 and Y4
A highly detailed 12 month plan for Year 1
Typically (although no one business is 'typical') Ampios starts its help with data analysis in terms of Transactions and Sales analysis to understand the key drivers underpinning performance, and an initial measure of the Return On Capital Employed. After several workshops with the management team to identify key issues, Ampios work with management in developing strategy.