How To Move Your Business Online During COVID-19
Why It's Time To Move Your Business Online
The internet as we know it has been around for about 25 years, so we're no stranger to the digital world. With the declining high street facing higher rental costs and lack of footfall, could it be time to move your business online? 
Well, it looks that way. Over the past few years, we've seen more and more businesses leave their physical premises behind and establish themselves online. 
Some might be a little sceptical, and that's to be expected. But since the coronavirus pandemic, perhaps the internet should be more of a friend than foe. It's where we do a large portion of our communicating, if not all of our communicating. Thanks to tools such as Zoom, Skype and Microsoft Teams we can all stay connected at the touch of a button. 
If you didn't think having an online presence pre 2020 was necessary, then you might want to think again. According to data from Statista, here in the UK, we have the most advanced e-commerce marketplace in all of Europe. Looking more closely at individual sectors, manufacturing and wholesale were the two key players that generated the highest e-commerce sales for the whole of 2018. We think that's something worth talking about. 
If this is a short-term fix, or perhaps a better way of doing business long term, it's still a step worth taking. 
From March to July, the coronavirus pandemic made it impossible for businesses to trade and operate in a physical setting, so we did what we had to do and that was to adapt. Whilst we may have had some freedom over summer, the winter is creeping up on us and with a second nationwide lockdown upon us, it's time to act now.
If like many other business owners, you don't have a plan in place to become digitized, then maybe we can help.
How To Move Your Business Online
If you're in the retail sector, this might seem like an obvious call to action, a website can be the most crucial thing you can do. There are plenty of benefits, however, we understand that not everybody owns a shop that can easily replicate their business on an ecommerce platform.
Now if you've been following the news as of late, then you'll have seen the many ways that other business owners have gotten creative and kept their customers engaged online. 
First things first, think about your products and offerings. What services do you offer and what do your customers want from you? We believe almost any business can transfer to the online realm. If you're a lawyer, personal trainer or therapist, businesses have the capacity to share documents and data from clients to holding meetings online, all thanks to technology.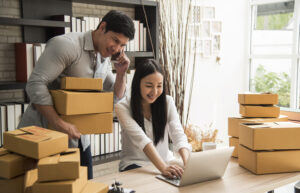 So, What Do You Need To Do? 
The first step you should take is to create a digital presence, if you haven't done so already. You must create a website. This will act as a virtual business card. This is the first point of call, as this is the very first thing potential customers see when viewing your business for the first time. So if your office is shut and there's no sign of you online, it's more than likely people will look elsewhere and even go with your competitors! So, create a website. If you don't have the budget to pay for a developer there are plenty of free DIY website builders that you can utilise. We would recommend WordPress, SquareSpace, or Wix.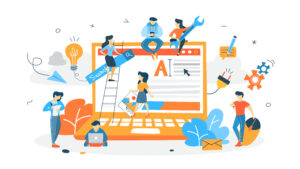 Wix and Squarespace are both drag-and-drop website builders. There's plenty of different design themes to choose from and they're very easy to use. Whereas WordPress gives you the WordPress website building software plus web hosting in one product. It's simply down to how user friendly you find each platform, so get testing! You want your website to be accessible for both you and your customers. It needs to be easy to navigate. Keep your website fresh and updated with new, exciting and relevant content. You want each website visitor to know exactly who you are and what you offer.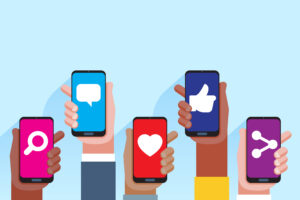 Next, take a look at your social media. As well as creating a website, social media posts can ensure a maximum reach and an even easier way to interact with customers. Particularly as more and more people get in touch with a business via a social media platform rather than picking up the phone. We would recommend finding out who your customer is. By identifying your customers age, gender and location, this can help to identify who your target audience is. This will then give you a better understanding on what platforms your customers use and how you can implement them. If you're a B2B or B2C company, it's best to do your research. You may find that only one social media platform works for you. It might even be worth taking a look at your competitors and seeing how they use social media, this can help point you in the right direction. 
So What's Next? 
So get your thinking caps on, this is the time to be interactive with your customers, hold events online via webinars or online summits to even creating your first podcast. 
With so many of us home working from home, now is the time to take the plunge and move your business online. If you have any questions our skilled team of experts at Ampios can lend a helping hand. Get in touch here.